Helen's Little Critters Home Page
Our Pocket Pets & Exotic Critters
Critter Prices & Availability List
Ordering and Shipping Information
(210) 256-8394
Send e-mail asking to be placed on Sugar Glider Notification List
You will sent an e-mail with availability of babies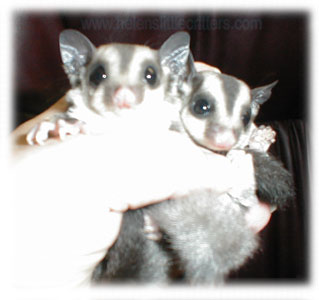 Handled from a young age, these little marsupials
are pet quality babies ready to bond to their human companions.
These animals, if cared for properly, have a long lifespan.


*Hand Tamed Babies:
*Price includes a nursery set up, a bonding pouch,
a start up supply of Gliderade, Sugar Glider pellets, and Calcium.
All our babies come with a baby care sheet and adult care literature.

Sugar gliders need a cage at least 18"x18"x30". A Sleeping Bag or Pouch should be provided for them to sleep in. We do not recommend using wood nest boxes. Provide plenty of non-toxic branches for you glider to climb on.

Line the bottom of the cage with paper or Aspen bedding.

Provide an 8 oz. water bottle.

I recommend Gliderade at least three times a week. Gliderade is a vitamin enriched nectar supplement for sugar gliders.

A Sugar Gliders daily diet should consist of a premium quality sugar glider food, fresh fruit and vegetables. Calcium must be added to their diet. This can be accomplished with Rep-Cal or a similar product sprinkled on the fruit & veggies. (Rep-Cal is calcium with vitamin D3 and can be found in the reptile section of most pet stores.)

It is important to acquire your baby sugar glider at 6-7 weeks (Out of Pouch) and carry it in your shirt pocket or in a bonding pouch for several hours a days for at least two to three weeks.

It is very important to purchase your hand fed baby sugar gliders from a reputable dealer.

They are easy to care for, however, if no one is home all day one little sugar glider becomes very lonely. If left alone especially in the early dusk and/or dawn you may want to get a pair.