Helen's Little Critters Home Page
Our Pocket Pets & Exotic Critters
Critter Prices & Availability List
Ordering and Shipping Information
(210) 256-8394
Prairie Dog Pups
Accepting Deposits Now for April Babies!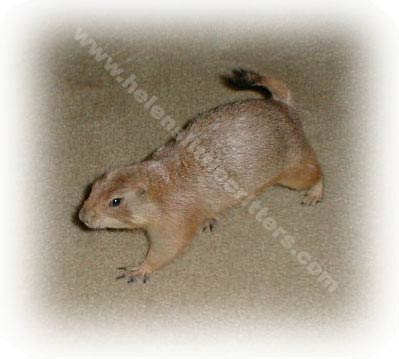 Click Play to view a short video of babies in our nursery !!!
These little critters will remind you of a chubby puppy in a sitting position.
Gentle and tame, prairie dogs will endear you with their captivating expressions
as you scratch their cheeks and tummy.
Their wide, open month grin is an absolute heart stealer.
Bottle fed to produce a very loveable pet.
Prairie Dog Pups
Seasonal - April & May.
We guarantees that each prairie dog pup has been captured and handled
in a humane fashion using no mechanical devises (vacuum, leg hold traps or snares).
No adult prairie dogs were harmed or killed during any part of the capture process.
All prairie dog pups have been cared for in our facility for a minimum of two weeks
before shipment to monitor health and temperament.
Every prairie dog pup has been treated for internal and external parasites.
This is absolutely the finest prairie dog available.

The minimum size cage for a prairie dog is 24"x24"18" high. The wire floor of the cage should be no larger then one half-inch by one half-inch mesh wire.

Never use cedar shaving or terry cloth which can cause respiratory problems.

Until the baby is near 8 months of age feed a mixture of high-grained cereal such as Cheerios, Chex, shredded Wheat, Crispix, etc. mixed with some high quality puppy food. This should be fed free choice along with timothy hay or any grass hay, a Quality brand of timothy pellets and root veggies. NO ALFALFA! Veggies that can be fed are sweet potatoes, squash, ans carrots. Avoid fruits. After 8 months of age gradually eliminate puppy food and cereal.

Treats can consist of a rodent block, shredded wheat cereal, 1" pieces of dried wheat bread, part of a large milk bone dog biscuit, Cheerios, unbuttered popcorn and monkey biscuits. Use peanuts very sparingly, Do not overfeed your prairie dog pup. It can lead to obesity.

Provide safe chew toys such as nylon braided dog toys and cardboard boxes with all tape and stickers removed. Softer woods to nibble on are okay too.

A large ferret wheel may also be used for play. You can also get creative and create a tunnel system for a prairie dog pup made of 4" PVC pipe. A few elbows and T shaped pieces can make a wonderful playground for them.

A prairie dog can be litter box trained in time. The safest litter I have found is a pelleted newspaper such as Yesterdays News which is found near the cat litters. You need to keep their environment as lint free as possible. Clay litters contain dust.