Helen's Little Critters Home Page
Our Pocket Pets & Exotic Critters
Critter Prices & Availability List
How to Contact Us
Ordering and Shipping Information
(210) 256-8394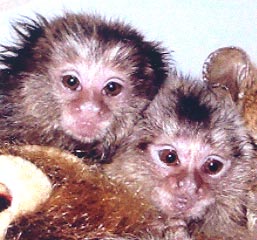 Send e-mail asking to be placed on Marmoset Notification List
You will sent an e-mail upon the birth of new babies
Marmosets, collectively known as "callitrichids", are charming
New World monkeys that dwell within the rain forest canopy of Central and South America.
They are among the smallest members of the monkey family, usually weighing around 1 pound.
They require a lot of attention. You should only purchase for a pet an animal
that has been bottle fed and handled properly at an early age.
Marmosets are know to favor a " favorite person" and will develop a definite dislike of anyone
who teases or mistreats him. They sleep all night and are very active during the day.

The minimum cage for an adult is 3'x3'x5' high with 1"x 1" ( or smaller) galvanized wire. In semitropical climates they can live outdoors as long as supplemental heat is provided if temperatures drop below 50-60*F. If housed indoors, full spectrum lighting ( available in pet store) should be used.

Provide branches for climbing and a wooden perch for chewing.

Provide a secluded place to sleep in the evening, such as a bird nest box or ferret sleeping bag.

Provide a variety of toys and rotate frequently to prevent boredom. If you are gone all day, they enjoy watching TV or being placed near a window to watch outdoor activity.

Hang an 16oz. water bottle on outside of cage. Some of our marmosets enjoy sitting in a bowl of water in warm weather.

A balanced diet is extremely important. The mainstay is canned marmoset diet ( We use Zupreem) which has high levels of D3 required by new world primates. This along with the Mazuri's "New World Dry Primate Biscuits" should be fed free choice daily and consist of at least 30% of their diet. Other daily foods should include at least two fruits and two vegetables daily. Additionally add two or three of the following each day: pasta, cereal, whole wheat bread, cottage cheese, yogurt, egg, chicken or tuna. Variety is important. Crickets, mealworms or wax worms make great treats.

In addition to a varied diet, supplemental vitamins are a daily essential and Marmosets should include a small piece of children's chewable multivitamin several times a week.

Vitamin C: 1/4 of a chewable vitamin C tablet or some orange juice or citrus juice.

To ensure adequate calcium consumption and to prevent metabolic bone disease, offer 1/4 to 1/2 of a fruit flavored Tums antacid tablet several times a week.

It is impossible to house break marmosets and they are too small to successfully diaper. They follow a bathroom routine, usually going to the same location. We change the tray paper at least twice a day. We also remove any "poop" that may not have fallen through the floor grate. Marmosets should never be able to have access to soiled paper. Make sure there is enough space for the poop to fall out of reach of any primate. They are too small to successfully diaper.

Marmosets do "scent mark" their territory. This will not be changed by spaying or neutering, nor will it improve the quality of your pet.

Marmosets are susceptible to many human diseases and virus and can be potentially fatal. Do not let sick people near your pet. Sick animals should be seen by a vet experienced in their care ASAP.

Life span for marmosets is 12 years.

Anyone selling, breeding or exhibiting any primate species should be licensed by the United States Department of Agriculture (USDA). It is important to check your local, county, or state laws that may prohibit or restrict private individuals from owning monkeys.